One more great news from ITL Aviation in this period is that Hong Kong Air Cargo (RH/HX) has appointed ITL Aviation as the General Sales and Service Agent (GSSA) for RH/HX in Phnom Penh, Cambodia.
Since 2019, ITL has become the GSSA for RH/HX in the territory of Vietnam, both Ha Noi and Ho Chi Minh City. It is such a significant milestone to continue the fruitful cooperation in Vietnam that RH/HX has extended the partnership with ITL for operation RH/HX flights in Cambodia.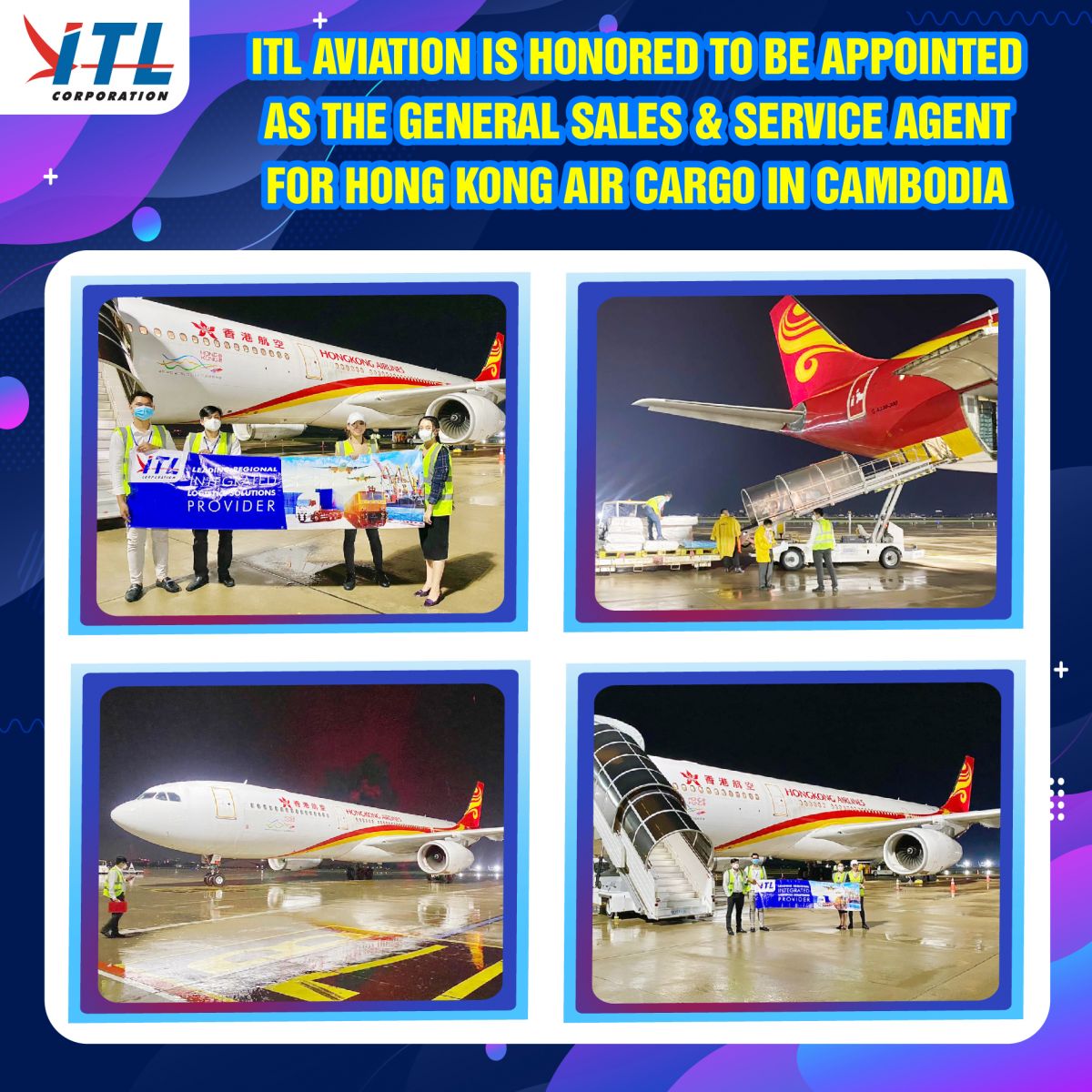 In this role, ITL Aviation team will handle cargoes on Phnom Penh – Hong Kong (PNH – HKG) route every Sunday, the operating aircraft is Airbus A330-200 with a capacity 20 tons per flight. The first flight to mark this cooperation between two sides began on September 5th 2021, successfully transporting more than 20 tons of cargoes (Charge weight).  The 1st stage is once weekly frequency and ITL' plan is to increase more frequency to better serve demand from customers in Cambodia market.
Beside the key transport route PNH – HKG, ITL Aviation team is also making great efforts to expand and exploit other transit destinations through HKG such as Shanghai (PVG), Japan and other S.E.A destinations.
According to air traffic data at Cambodia Airports, Cambodia' s airfreight tonnage rose by 14 percent year-on-year in the first half of 2021, it is expected to remain with strong demand in the upcoming seasons. Being appointed as the GSSA for RH/HX in Phnom Penh will enhance ITL Aviation's capacity and reputation in this air cargo market, provide more solutions to customers and partners.
In this current period, the cooperation between ITL Aviation and Hong Kong Air Cargo in Cambodia will contribute to bring great values to ITL Aviation's customers in Cambodia market. This is also the rewarding results of ITL Aviation team's continuous efforts in expanding the operations and networks to add values to customers and partners.
** About Hong Kong Air Cargo:
Hong Kong Air Cargo is an all-cargo airline based in Hong Kong, provides international scheduled and non-scheduled air freight transportation service for Hong Kong, Asia and beyond with its fleet of A330-200F wide-body freighter.